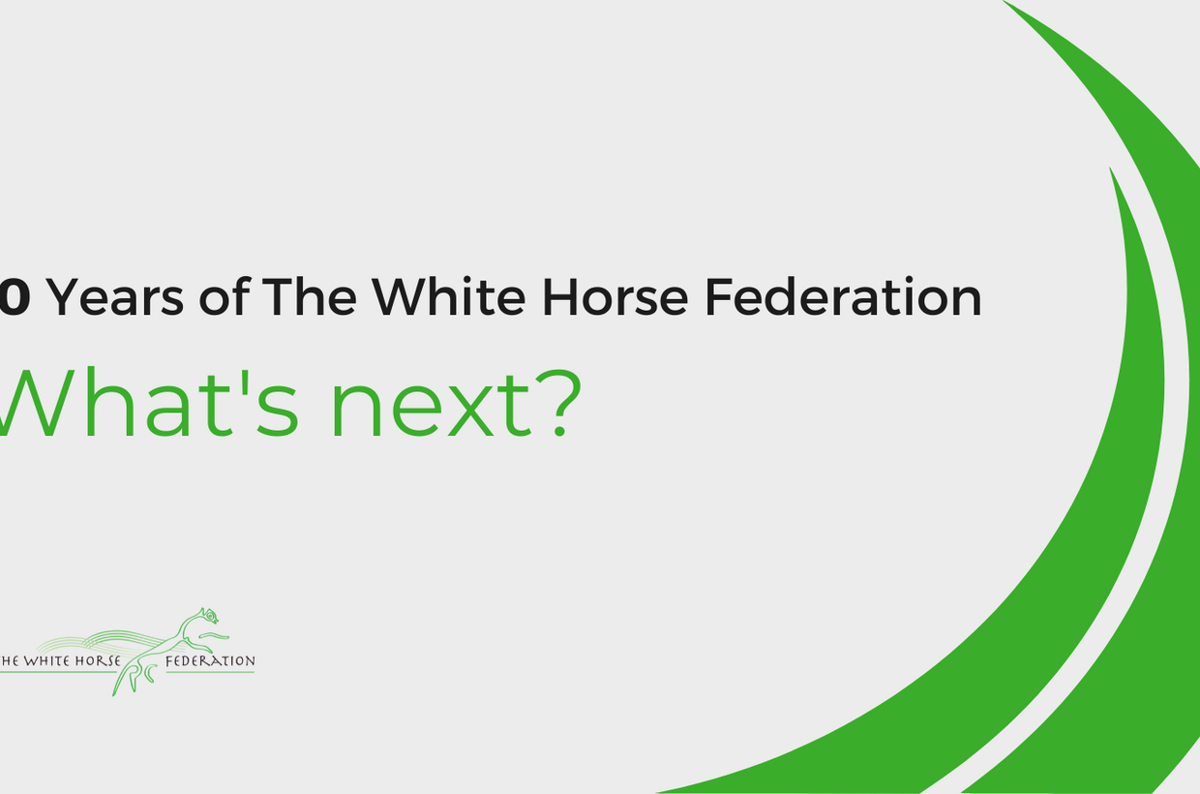 With over 30 schools, thousands of dedicated and talented staff, and a track record of success, The White Horse Federation has a lot to celebrate - and an established, influential platform to help grow and transform the lives of even more children.
In this blog, we'll be looking at some of the exciting projects coming up at some of our schools, and what the longer term future holds for our family.
Possibly the biggest news we've announced this year is the upcoming departure of our founder and CEO Dr Nick Capstick OBE.
Nick capped off his decade with the trust receiving a Silver Lifetime Achievement Award in the Pearson National Teaching Awards last week on May 26, National Thank a Teacher Day. Dr Capstick is now in the running for a Gold award. We can't wait to see if he is picked later in the year!
After ten years of progression at the head of our trust, and over 20 years at Drove Primary School, Nick is an exceptional educator who has had an incomparable influence on The White Horse Federation. His departure is therefore one of the most important transitions we will ever have faced at the trust. It also presents an opportunity.
We are currently fielding candidates for the new CEO of our trust, and whoever is appointed will be supported by an experienced Board of Trustees, an exceptional Executive Team, and an enormous family of dedicated, welcoming, and ambitious staff united in a common goal of creating the best learning environment possible for over 12000 pupils.
We're sure that whoever fills the role, if they can bring the energy, drive, and genuine love for children's learning that Dr Capstick brought over the past decade, we are well set up for the future.
While we are turning a page in our story, success will come from building on the work and ideas that have served us so far: centering staff development and internal progression, schools working together to bring each other forward, and making sure that our values guide us from the senior leadership to team, to our teaching staff, to every pupil.
A recent development at the trust that has seen many staff benefit, is our apprenticeships programme. Available to all staff, no matter what age, apprenticeships at The White Horse Federation are a great way to develop skills all the way up to masters equivalent level. If you're a member of staff reading this, look out for an upcoming event we're planning to share more information about the options available to you.
This summer, schools are running the first in-school exams for two years. While exam success is down to hard work and excellent preparation supported by our amazing teaching staff, we'd like to wish every student the best of luck for the period.
As well as exams to prepare for, we've also got some exciting events to look forward to at different schools across the trust.
One example of a great event coming up soon is a very special performance happening at a world-famous site near our very own Larkhill Primary School. In an event that makes history, the school's pupils will be performing a special play at Stonehenge with help from Prime Youth Theatre and English Heritage.
Taking place in the first week of July, the performance encapsulates so much of what has made The White Horse Federation so successful in the past decade:
Working together with local communities, and celebrating the local identities of each school.
Taking advantage of collaboration with fantastic organisations such as Prime Youth Theatre, of whom our CEO is a trustee.
Doing everything we can to offer our pupils special opportunities.
We can't wait to celebrate the show with Larkhill's school family!
Meanwhile in Swindon, staff and pupils are making preparations for the annual Croft Fest, a big annual event celebrated with the school's local community. With live music, and pupil performances, it's sure to be as fabulous as ever!
Over the next decade, we are sure to face different challenges and obstacles. With the same values, aptitude and amazing togetherness that has characterised our federation over the past ten years, we can overcome these and help even more children have the best education possible.